Barbecue Meatball Recipe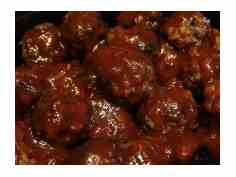 A good barbecue meatball recipe is hard to come by. Why do I say that?
Because I have yet to find a recipe where the meatballs are grilled over real charcoal. BBQMyWay.com to the rescue!
The typical recipe is comprised of buying the frozen product and throwing them in the crock pot with a bunch of store bought sauce.
The only thing I would change is doing the meatballs over indirect heat versus direct heat. I had to baby sit them using direct heat.
But, they turned out fantastically!

Meatball Recipe
This was a huge recipe of meatballs. I wanted to have some leftovers for meatball subs, which were unbelievable, by the way.
I would suggest cutting this recipe in half unless you want to serve some sub sandwiches in the near future!
4 lbs of Ground Beef
2 lbs of Ground Pork
1/2 Cup of Onions: Make sure you saute' them first.
3 Eggs Slightly Beat
3 Cups of Bread Crumbs: You can also use crunched crackers
1 1/2 Cups of Milk
4 Teaspoons of Kosher Salt
1 Teaspoon of Fuzzy's Famous Kicker
1 Teaspoon of Allspice
1 Teaspoon of Cracked Pepper
Questions? Ask Dave by Clicking Here! He'll Respond
Within 24 Hours If Not Sooner.


Join my online newsletter called "The BBQ Gazette" for a monthly update on all things barbecue, including equipment suggestions, new techniques, interesting recipes and more.
And don't worry, we won't share your email address with anyone.
Barbecue Meatball
Recipe Video


Click Here to Leave Barbecue Meatball Recipe and
Return to BBQ My Way Homepage.

Click Here to Leave Barbecue Meatball Recipe and
Return to Beef Recipe.