Barbecue Chicken
and Poultry
This section of BBQMyWay.com will cover great barbecue chicken recipes as well as recipes from other types of poultry, such as turkey, Cornish hens and more.
We will use the smoker, the BBQ and the grill, and if I come across a dish that is worthy of moving indoors to the kitchen, I will share that with you as well
Poultry in general is inexpensive and versatile, and barbecue chicken is a "hallmark" of southern barbecue cooking.
History of Chicken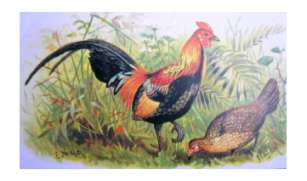 While we will cover recipes for all types of poultry, the main focus will be on chicken, and lots of barbecue chicken and grilled chicken.
In case you are interested, chicken is one of the oldest and most frequently domesticated animals in the world. In fact, there are over 22 billion chickens worldwide.
The domesticated chicken can trace its lineage back to the "Asian Red Junglefowl," which is pictured on the right.
Practically every part of the chicken can be consumed, and the bones can be simmered with spices and vegetables to create fresh chicken broth. When doing this, hens are suggested.


Join "The BBQ Gazette"
I do a little newsletter called "The BBQ Gazette." In this monthly newsletter I share new BBQ and grilling techniques, recipes, my opinions on various brands of grills, utensils, rubs and sauces.
I also discuss how to compliment your dish with the perfect beer or wine.
Just fill in the blanks below, and please don't worry. Your email address is totally safe with me.
Grilling Turkey

White Chicken Chili Recipe

Buffal Chicken Recipe - "Buffalo Bacon Backers™"

Roast Chicken Recipe

Beer Can Chicken

Turkey (or Chicken) Pot Pie Recipe

Thai Chicken Kabobs in Spicy Peanut Butter Sauce

Barbecue Chicken Pizza Recipe

Hot Brown Open Face Sandwich

Traditional Creole Jambalaya

Legitimate BBQ chicken wings

Leave Barbecue Chicken and Return to BBQMyWay Homepage.