BBQ Festivals Provide Fun and
Great KCBS Competition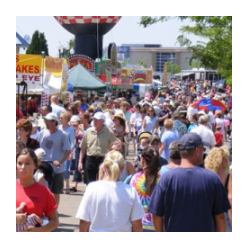 If you love BBQ like I do, you haven't lived the true "Q" experience until you have attended a legitimate KCBS sanctioned BBQ competition.
The best BBQ teams in the area are typically in attendance to compete for prizes, money and bragging rights.
This section of the website will allow organizers of these festivals the opportunity to post information and pictures about their BBQ festival.


Subscribe to "The BBQ Gazette"
I do a little newsletter called "The BBQ Gazette." In this monthly newsletter I share new BBQ and grilling techniques, recipes, my opinions on various brands of grills, utensils, rubs and sauces.
I also discuss how to compliment your dish with the perfect beer or wine.
Just fill in the blanks below, and please don't worry. Your email address is totally safe with me.
Want to Promote Your BBQ Festival?
Inform the thousands of visitors to BBQMyWay.com about your BBQ Festival!
Did You Have a Good Time at the BBQ Festival? Tell us!
Click below to see contributions from other visitors to this page...