Barbecue Pork,
Grilled Pork and More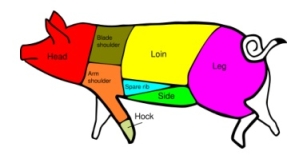 For great pork recipes, scroll to the bottom of the page. For historical information on pork, continue reading.
The domesticated pig dates back to 5000 BC, and whether you fix barbecue pork, grilled pork or pork in the kitchen, pork is one of the most versatile meats you will ever experience.
Because of this, pork is also one of the most widely eaten meats in the world, accounting for nearly 40% of all meat consumed world wide.
Unfortunately for BBQ fans like me, pork has undergone a serious makeover these last few decades due to consumers demanding a leaner meat. (Damn fat-nazis!)
The resulting change in diets of pigs has led to a much leaner product, which creates problems when it comes to meat preparation.
Gone in most pigs of today is the marbling in the muscle which added flavor and resulted in tenderness. Pork today is easily overcooked if not watched closely.


Do you have a great side dish recipe? CLICK HERE to post it on our website and possibly win some BBQ sauces and rubs!


The Berkshire Pig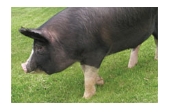 A solution to this issue is the breeding of the Berkshire line of pigs which started over 300 years ago. They were the swine herd of the House of Windsor and were prized for their flavor, juiciness and tenderness.
This line of swine has been diligently guarded and the Berkshire pigs remain pure-bred Berkshire with direct lineage to the same pigs from 300 ears ago.
They are also known as "black pigs," as their skin is black. Berkshire pork is world renowned for it's unrivaled taste and tenderness. If you love pork, you definitely need to treat yourself to this succulent taste of royalty.
Another line of swine from European decent is the Mangalitsa pig, which is is Austrian. A guy by the name of Heath Putnam lived in Europe for twenty years or so and became accustomed to the quality of the pork provided by the Mangalitsa pig.
He has since relocated back to the states and has started his own breeding operation featuring the Mangalitsa and Bershire hogs in the state of Washington.
Cuts of Pork
Unlike beef which has a variety of internal temperature choices based on rare, medium-rare, etc., barbecue pork or pork in general has one internal temperature goal which is 170 degrees Fahrenheit, 73 degrees Celsius.
Please refer to the chart at the top to know the location of the various cuts of pork.
Head: This portion of the hog can be used is soups and broths. The ears are sometimes frozen and fried. As gross as that might sound, many high end restaurants now include "crispy pork ears" as an addition to pork dishes.
Blade Shoulder: This is where the "Boston Butt" comes from, or "pork butt." It is used in BBQ circuits to fix "pulled pork BBQ" or "barbecue pork."
Arm Shoulder: Can be cured as a bone-in ham or ground and used in sausage.
Loin: Lots of things going on in this section of pork. Baby back ribs, pork chops, Canadian bacon, pork loin crown roast and the pork loin, which is practically free of fat.
Spare Ribs: This one speaks for itself. A staple of barbecue pork.
Belly Side: Fatty piece of meat that can be cut into steaks, fried or made into "streaky bacon."
Leg: This area is used for the cured, bone-in picnic ham. It can also be roasted. "Leg steaks" can also be cut from the bone.
Hock: Ever heard of "pickled pigs feet?" The tail can be eaten as well.
I'm not a big cured ham fan, other than on a sandwich. The pork recipes I will work with for the most part will include the blade shoulder, the loin and the spareribs. Hundreds of recipes can be fixed from those three sections of the pig.

Join my online newsletter called "The BBQ Gazette" for a monthly update on all things barbecue, including equipment suggestions, new techniques, interesting recipes and more.
And don't worry, we won't share your email address with anyone.
Pork Recipes and Videos
Traditional Pulled Pork Sandwich

The Perfectly Grilled Beer Bratwurst

Pork in a Patty

A Great Cornbread Bun for Pulled Pork

Grilling Bone-In Pork Chops

Grilling Pork Loin

Grilling Baby Back Ribs Elvis Style

Stuffed Smoked Bone-In Pork Chops

Pulled Pork and Cheese Grilled Sandwich

Award Winning Chili Recipe

Leave Barbecue Pork and Return to BBQ My Way Homepage.