Great Gift Ideas For BBQ'ers and Grillers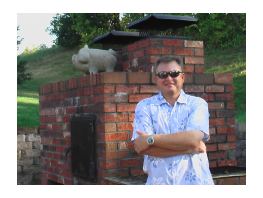 The genre' of "barbecue and grilling" provides gift givers the opportunity to pick from a variety of really cool gifts to make the outdoor chef happy as a kid on Christmas morning.
This page will be dedicated to letting BBQ My Way readers know of some of the most popular gifts available.
The prices range from a few dollars to a few thousand dollars. We barbecue enthusiasts love to dream!



Outdoor Kitchen: This would be the premier "Rolls Royce" gift for the outdoor cooking enthusiast in your life. In terms of price, the proverbial sky is the limit. You can include fireplaces, stone or brick pizza ovens, grills, barbecue units and basically any appliance you would include in an indoor kitchen.DANVER provides free software online where you can design your own outdoor kitchen free of charge. CLICK HERE to be taken directly to that area of their website. Enjoy!



Grills: Maybe the griller in your family has been forced to work with a grill that of late has been showing its age. Rust, peeling paint, propane burners that don't heat up evenly anymore - you get the idea.
You will need to know some things to make the right choice. Does he/or she prefer gas or charcoal? Propane or natural gas? Is there a certain brand they prefer? Maybe a gift card would be thebest approach for a grill as a gift. That way the outdoor cook can get exactly what he or she wants.
Costs can start as low as $50 for an inexpensive charcoal grill and escalate into the thousands of dollars for gas or competitive charcoal grills.

CLICK HERE to view some pretty cool grills.

CLICK HERE to view the Weber Grill website.

CLICK HERE to view the Char Broil Grill website.



Grilling and Barbecue Utensils: Nothing makes the outdoor cook happier than a selection of professional utensils for cooking, barbecuing and grilling. Sturdy metal is best, and the spatula is extremely important, probably the most important utensil.
You want to get a thin and sturdy metal spatula that can be used to turn the most delicate seafood or handle a bulky and beautiful bone-in rib-eye.

CLICK HERE to view some really cool BBQ and grilling tools.



Nice Barbecue Gloves: If your outdoor cook likes to BBQ large pieces of meat for long periods of time, consider getting them a pair of high quality leather grilling gloves. These gloves are priceless when taking large pieces of meat off of the barbecue.

CLICK HERE to check out the gloves.



Monthly BBQ and Grilling Gifts: There are monthly delivery plans where your outdoor cook can receive a new grilling utensil each month, or a new barbecue sauce each month, or a combination of both. With this gift idea they will be thankful to you on a monthly basis versus just once around theholidays.

CLICK HERE to view some of these cool monthly gift programs.



Thermometers: There are so many variations now it is amazing. From the traditional instant read thermometer all the way up to sophisticated electronic thermometers which allow you to monitor the internal temperature of the meat from 200 feet away.

CLICK HERE to view some of these cool thermometers.



Barbecue and Grilling Cookbooks: There are a ton of great books available on grilling and barbecuing. Mouthwatering photography, techniques, recipes and secrets from the best barbecuers in the world.
Personally, I never get tired of scouring over books such as these for new ideas or just to pass some time. I am accumulating a pretty nice library of barbecue and grilling books that I refer topretty frequently. I guess you could say I am an "Official BBQ Geek."

CLICK HERE to view some good cookbooks.



Make a Local Butcher Your Gift: Sometimes outdoor grillers are hesitant to spend the extra money on a premium cut of meat. Ask around to find the best butcher in your town. For me, it's a local meat shop called "Preferred Meats." They use local farmers and their beef is hormone and steroid free.
Search out a local meat shop and see if they will do a holiday gift certificate. If you can't find a local premium butcher, Omaha Steaks delivers a fantastic product.

CLICK HERE and Shop Now and Find Free Shipping on Select Gift Packages from Omaha Steaks. Valid from 11-04-2010 through 12-20-2010.