Beef Stew Recipes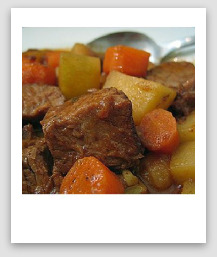 Of all the beef stew recipes I have tried, this one is without a doubt one of my favorites.
It slow cooks all day in the crock pot, and the moment you walk in the house you can't wait to get a bowl of it.
The secret in my opinion is to brown the meat to give it texture before placing in the crock pot, and to saute' the onions to bring out their sweetness.
While these steps take a little more time, I think it is worth it.


Subscribe to "The BBQ Gazette"
I do a little newsletter called "The BBQ Gazette." In this monthly newsletter I share new BBQ and grilling techniques, recipes, my opinions on various brands of grills, utensils, rubs and sauces.
I also discuss how to compliment your dish with the perfect beer or wine.
Just fill in the blanks below, and please don't worry. Your email address is totally safe with me.
Ingredients
3 to 4 lbs of beef chuck roast, cubed.
Fuzzy's Steak Rub and Kicker. Other steak rubs will do, but not as well as Fuzzy's!
1 large onion, chopped and sautee'd with a teaspoon of chopped garlic.
4 large carrots, peeled and cut into 1/2 inch pieces.
4 potatoes, cleaned and cubed.
2 regular cans of diced tomatoes.
1 cup of beef broth.
1 1/2 cups of a nice red wine.
1 teaspoon of Worcestershire sauce
1 1/2 teaspoon of Kosher salt
2 bay leaves
Subscribe to "The BBQ Gazette"
Simply combine all ingredients in a crock pot and cook on low for 8 hours.
Remove the bay leaves and (at your discretion) use a little corn starch and water to further thicken before serving.
Questions? Ask Dave by Clicking Here! He'll Respond
Within 24 Hours, Probably Sooner!


Hearty Beef Stew Video
Leave Beef Stew Recipes and Return to Beef Recipes Page

Leave Beef Stew Recipes and Return to BBQ My Way Homepage.