Beer Can Chicken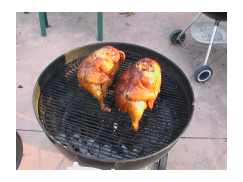 I remember the first time years ago when I first heard of "beer can chicken." I thought...what the heck is that? But, I like beer, so I gave it a try.
This is now one of my favorite ways to BBQ / grill chicken. It's easy to do and the end product is as good as it gets. It is always moist, delicious and perfectly cooked.
Simply put, you shove a half empty can of beer up the rear side of the chicken and then prop it on the grill using indirect heat.
I always apply some good rub to the outside of the bird before placing it on the grill.
After an hour and a half you end up with golden, moist chicken like the picture above.
Below are some additional pictures to look at, but PLEASE view the short video below.
Here are a few pointers and then I encourage you to watch the video.
Don't forget to sign up for The BBQ Gazette E-zine for more BBQ and grilling tips.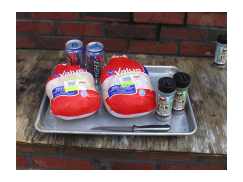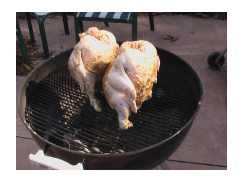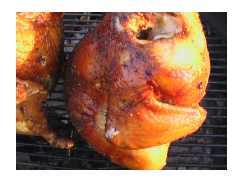 Subscribe to "The BBQ Gazette"
I do a little newsletter called "The BBQ Gazette." In this monthly newsletter I share new BBQ and grilling techniques, recipes, my opinions on various brands of grills, utensils, rubs and sauces.
I also discuss how to compliment your dish with the perfect beer or wine.
Just fill in the blanks below, and please don't worry. Your email address is totally safe with me.
Beer Can Chicken Pointers
Use Beer You Like to Drink: Duh. Why would you use beer you don't like? Someone has to drink the half you pour out!
Use the Indirect Heating Method: This circulates the heat up and around the chicken as opposed to directly under the meat.
Use a Weber Grill: If you have a choice, use a Weber. Gas works "ok" but the best beer can chickens I have done are on Weber grills.
Use Hickory Chips: Using an indirect method these chips add GREAT flavor.
Don't Add Sauce and spices to the Beer: As cool as it sounds, sauces and spices do not steam into the meat. Trust me, I've tried it both ways. It's a waste.
Buy a Set of Silicon Gloves: Taking the chicken off the grill can be a hot proposition, especially pulling the cans out. Silicon gloves will protect you.
Check Out Accessories for Beer Can Chicken: There are accessories that eliminate the balancing act on the beer cans. Definitely a good investment.
Click Here
to view the beer can chicken utensil.
Click Here
to see the grilling gloves.
Questions? Ask Dave by Clicking Here! He'll Respond
Within 24 Hours, Probably Sooner!


Beer Can Chicken Video
Leave Beer Can Chicken and Return to BBQ My Way Homepage

Leave Beer Can Chicken and Return to Barbecue Chicken