Grilled Chicken Recipe
Grilled Chicken Kabobs in a
Spicy Thai Peanut Butter Sauce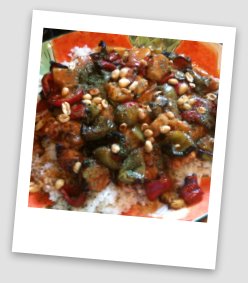 This grilled chicken recipe is not only delicious and sophisticated, it is also fairly simple if you adhere to simple grilling techniques which are covered in the video.
This Thai Chicken Kabob recipe is unique because it features a spicy peanut butter sauce that is out of this world. Trust me on this, give it a try and it will become a regular rotation in your grilling recipes.
Grilling Secret: I cover this in the video but it is worth putting it in print as well. When you see pre-made kabobs in the grocery stores you will see them combine meat, vegetables and sometimes fruit on the same skewer. MISTAKE!!
Think about it. Does a piece of green pepper cook at the same rate as a piece of meat? Nope. Always segregate your meat from your vegetables and fruit, creating skewers that focus on one or the other.


Ingredients
Purchase four boneless and skinless chicken breasts and cut each breast into four pieces lengthwise.
In the meantime, soak bamboo skewers in water for 30 minutes to prevent them from burning.
Now for the sauce...
1/2 Cup of Smooth Peanut Butter
1/2 Cup of Soy Sauce
1/4 Cup of Rice Vinegar
1/3 Cup of Sugar
Hot Sauce to Your Personal Taste
1/8 Teaspoon of Garlic Powder
Combine peanut butter, soy sauce and vinegar over medium heat. Stir until peanut butter dissolved.
Then add remaining ingredients. Stir over medium heat until smooth and slightly thick. Set aside.
Cut red peppers, green peppers and pineapples into bite sized pieces. Assemble on skewers.
Assemble chicken on skewers per the directions in the video.
Grill all skewers over direct heat and baste with sauce.
Bring remaining peanut butter sauce to a boil (kills all bacteria) and add 1/3 cup of chicken broth.
Place grilled chicken, peppers and pineapple over a bed of rice. Pour peanut butter / chicken broth sauce over the dish.
Garnish with peanuts and parsley.
Serve and enjoy!


Click Here to Ask Dave a Question About This Recipe


Dave's Instructional Video


Leave Grilled Chicken Recipe and Return to BBQ My Way Homepage

Leave Grilled Chicken Recipe and Return to Barbecue Chicken