Grilling Steak Recipes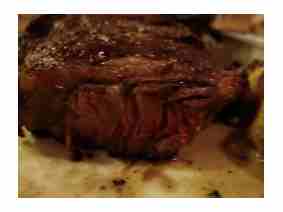 I have tried a lot of grilling steak recipes. Tons of them. I've grilled more steaks than I care to recall when I worked at restaurants while growing up.
I remember working with the older guy, the chief cook. He would take the spatula and push down on the steaks, and then cut into it them see if the steak was done properly.
I saw and heard the juices rush out of the steak and dance around on the griddle.
I knew nothing about steaks at that time, but I knew instinctively that this approach made no sense unless you had a hankering for well down shoe leather.
Sorry, I digress. Years of pent up frustration.
I have to admit this recipe was the most unique recipe for steaks I had ever seen, and it was given to me by a good friend, George Mann.
So, I had George come over and fix them up for me. You'll see him in the video.
Watch the video. It was fun having George over. I call him "Jungle George" because he hits the golf ball so far.


Some Hints
Good Meat: It always comes back to the quality of the ingredients. Go to a butcher and have him or her cut 1 1/2 inch bone-in rib eyes.
Use Dales Sauce: George swears by this sauce as a marinade. Go find it for the authentic steak.
Use Real Butter: No margarine for this recipe. Get real, unsalted butter.
Be Patient: This preparation method combines indirect with direct grilling methods.
Use Fuzzy's Steak Rub and "Kicker": Not a sales pitch, but this is the way George makes them.
Grilling Steaks Recipe Video


Leave Grilling Steak Recipes and Return to BBQMyWay Homepage.