Italian Beef Recipe Sandwich
Obviously this Italian beef recipe for sandwiches isn't BBQ'ed or grilled. But you can't grill every night, and good food deserves to be shared, even if it's done in a crock pot.
This recipe is easy and results in authentic Italian beef sandwiches as good as anything you will get in a Chicago or New York sandwich shop.
The beef, the seasonings, onions and green peppers slow cook all day, and when you walk in your house or apartment after a full day of work or play, the aroma is unbelievable.


Recipe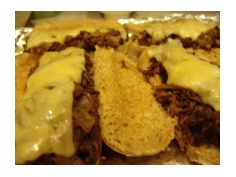 This is one of those recipes that you simply cannot screw up. And if you don't own a crock pot, please go buy one. They are great for all sorts of dishes, especially in the fall and winter.
I prepare everything for this dish before heading to work, and over the course of the day the house fills up with great aromas that put a smile on your face after you return home after a long day. I have also let the meat cook overnight and take it in the crock pot for tailgating at football games. It's usually the first thing gone.
Watch the video below that I made. It's painless...I promise!
4 lbs of Chuck Roast: Any inexpensive cut of beef will work.
2 to 3 onions sliced
2 Green Peppers Sliced
1 Cup of Beef Broth
2 Cups of a Dry Red Wine
5 Tablespoons of Fuzzy's Steak Rub
2 Tablespoons of Pepper
Buns
Swiss Cheese
Do you have a question for Dave about this recipe? If so,
CLICK HERE.
Video