A Great Meatloaf Recipe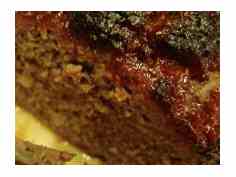 A meatloaf recipe can bring looks of boredom from the casual meatloaf consumer.
But, this is my "Jacked Up Meatloaf." Even Randy from The Christmas Story would love it.
Even though I do this recipe on a Weber grill, it can just as easily be done in the oven, although the grill does add a smokiness that in truly unique to meatloaf.
The key is to saute' the onions and garlic and to use pork in addition to beef.
Ingredients for Jacked
Up Meatloaf
1 1/2 lb. of ground beef
1 lb. of ground breakfast sausage
1 onion, diced
1 tablespoon of diced garlic
1 1/2 cup of crunched whole wheat crackers
4 eggs
3/4 cup of cream
1 tablespoon Fuzzy's Kicker
1 teaspoon of salt
1 teaspoon pepper
Jacked Up Meatloaf Video