Pulled Pork Recipe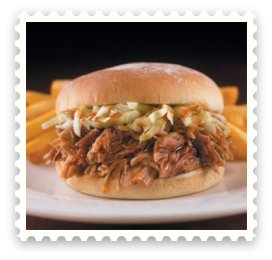 This is an easy and traditional pulled pork recipe that anyone can do if you have a Weber grill. The video I made below does a great job of showing you all the steps needed to create this delicious southern sandwich.
A lot of you know I went the the trouble of building an authentic brick BBQ, and this is what I like to use whenever I am making a pulled pork recipe. In it you burn down hickory in a fireplace and then transfer the coals to another fireplace, above which the meat is suspended.
But, most of you don't have this set up. No worries. You can make world class, smokey pulled pork BBQ in your Weber grill.
As you can see in the picture, the traditional way of serving pulled pork is on a sandwich with the coleslaw directly on the sandwich. Trust me, it's delicious! Once you master this technique, you'll be the envy of your entire neighborhood.


Helpful Hints
Boston Butt or Shoulder: This is an easy cut of pork to locate at any supermarket or meat shop and is the traditional cut for pulled pork recipe.
Proper Equipment: You need a domed Weber grill, charcoal and hickory chips.
Indirect Heat: The video explains this. Basically you put charcoal and hickory on the far ends of the grill to slow cook the pork.
Time: Yes, this method takes a lot of time and some attention. Plan on dedicating 5 to 7 hours at a minimum.
Have a Good Rub: I use Fuzzy's Pork Rub. You want something spicy with some sweetness. A rub is a MUST, as this is what creates the delicious "bark" you hear about from champion BBQ'ers.
A Dependable Meat Thermometer: It's not so important using this cooking technique, as the meat will be cooking at 250 to 275 degrees Fahrenheit for 7 to 8 hours, but it's nice to have.
Replenish the Charcoal and the Hickory: You'll need to do this every 45 minutes to one hour. And please, try to resist the urge to take the lid off unless you are replenishing the charcoal and hickory chips.
When Is It Done?: Don't rush this process the longer it stays on the more tender the meat will get. You'll know it's done when you can easily pull the pork apart. Again, plan on 8 to 9 hours!
Questions? Ask Dave by Clicking Here! He'll Respond
Within 24 Hours...Probably Sooner!


Video by Dave