White Chicken Chili Recipe
This white chicken chili recipe is very easy to make, but most importantly, it is delicious. I tweaked the recipe a bit in terms of how I prepare the chicken. Most recipes call for the chicken to be cooked indoors. However, I decided to smoke the chicken. I used boneless and skinless chicken thighs rather than breasts, so they only took 1 1/2 hours, and the flavor they impart on the chili is simply awesome.
For those of you who have never smoked anything over charcoal, it's really easy. I use a Weber kettle grill. All you do is pile 20 to 25 charcoal briquettes on one side of the grill. Fire it up, and when it is 75% gray in color, layer on 15 pieces of hickory chips. Let them flame out and then place the chicken on the grill opposite the charcoals. Put the lid on and resist the urge to lift it. As long as you have heat coming out of the vents, you are fine. The thighs are done when they reach 170 degrees Fahrenheit.


Recipe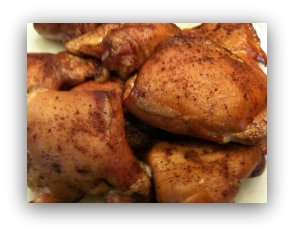 I had to show you what the smoked chicken thighs look like when they are done. Again, you can make this white chicken chili recipe without smoking the chicken, but for something really special, give it a try.
Also, many recipes call for chicken breasts, which you can certainly use. My belief is that the breasts dry out and/or become rubbery when you reheat. The chicken thigh is much moister, and in my opinion has a lot more flavor.
5 Boneless and Skinless Chicken Thighs, Cooked Indoors or Smoked and Cubed
1 Chopped Yellow Onion
1 1/2 Teaspoons of Chopped Garlic
1 1/2 Teaspoon of Ground Cumin
1 Teaspoon of Oregano
1/8 to 1/4 Teaspoon of Chili Powder
2 15.5 oz Cans of White Northern Beans
1 15.5 oz Can of Cannelloni Beans
48 oz of Chicken Broth
1 Small Can of Diced Green Chili Peppers
From this point it is a combination of simply layering the flavors after you saute' the onion and garlic. Believe it or not, this chili will be even better as leftovers. Don't forget to watch the video. Please forgive me for the lack of production quality. We did this at the last minute.
Saute' onion and garlic in 2 tablespoons of olive oil until translucent over medium heat. Takes 3 to 5 minutes.
Add the cumin, oregano and chili powder
Add the chicken broth, beans, green chili peppers and chicken.
Let simmer for at least 1/2 hour
Serve with your favorite cheese and corn chips
Instructional Video
Recieve "The BBQ Gazette"
My monthly newsletter provides you with tips, pointers and techniques that you will not find on the web page. Sign up below, and rest assured, your email address is safe with me.


As Dave a Question
If you have a question for Dave about this recipe or about any other recipe or technique, Click Here.


Click here to leave white chicken chili recipe
and return to BBQ My Way homepage.

Click here and leave white chicken chili recipe and
return to barbecue chicken.